Shoes for jeans – men's, what you need to know.
Who doesn't like a good pair of blue jeans? Since there invention in 1871, these denim pants have been the "go to" clothing for men around the world. If you're like most guys, you probably have at least one gnarly pair you bum around in, smarter ones for nights out, and everything in between.
No doubt jeans are versatile, and can even be dressed up a little, going from relaxed and casual to semi-formal. However, as easy as they are to wear, if you really want to step up your game, then knowing what shoes to wear with jeans is essential. It's the shoes that will define the type of look you're trying to create.
So whether you want to look rugged for winter, stylish for the street or polished for a date, we're here to help break it down into basics. To make sure you always choose your shoes like a pro, we present this guide to you. Here we will explore everything from what color shoes to wear with blue jeans to dressing your jeans up.
Let's get to it!
What shoes to wear with skinny jeans?
The obvious thing to do is pair sneakers with skinny jeans, but if you really want that preppy and fashion forward look, go for dress shoes. I know, I know, this combination may seem a little odd, but a nice pair of loafers or even brogues will elevate a pair of skinny jeans no end.
For the look to be impeccable, the jeans should break at the shoes, without wrinkling or revealing too much sock. Black brogues remain the most elegant, and they can be paired with a jacket (black or gray), skinny jeans and a white shirt.
For a style that's still formal, but somewhat laid back, you could also go for loafers with skinny jeans. Try tassel loafers, penny loafers are also a good choice. Don't feel like loafing around (see what we did there?), if the weather is warm, pair skinny jeans with boat shoes. Whatever shoe type you choose, don't just stick with black and brown, play around with the colors and make the look your own.
Find out >  how to wear joggers and still look sharp.
Blue jeans with Blue Shoes
Are you looking for ways to experiment with the color block trend? Then wearing blue jeans with blue shoes is a good place to start. For a confident and avant-garde look, when choosing your shoe color, opt for darker blues.  While shards of lighter blue on the shoe detail can add individuality to an outfit, it can become excessive if the entire shoe is light blue.
What shoes with blue jeans
Basically, we recommend that you choose shoes in navy blue, cobalt and azure, while leaving aqua and baby blue for the laces or small panels. Finally, to complete your effort to block colors, choose your coat, jacket or T-shirt – you guessed it,  in a complementary shade of blue.
---
Capthatt  makes high-quality men's shoes. All of their products are of excellent quality. Use promo code platinum1 to get a special 20% discount.
---
Blue jeans with black shoes
Although jeans are universally recognized as the cool, laid-back essential item for any wardrobe, adding some black shoes can add a dash of instant sophistication.
To modernize any outfit, try pairing your blue jeans with black and polished shoes. The best types can be anything from boots, moccasins or sneakers, just choose the style that fits your personality. A simple rule is to choose a shoe that has a shine to it, whether that is leather or faux leather.
With polished black shoes, blue jeans can be transformed to more formal wear. Whether it is a lunch with the in-laws or drinks with your colleagues.
Boots and Jeans
A solid pair of boots and jeans is a style combination that never fails. All that's needed is finding a look that works for you. Want to go urban? Try teaming your jeans with hiking boots – the chunkier the better. Want to look more polished? Chelsea boots or chukka boots can smarten things up
Bare in mind that it's not just the style, but the actual texture too. Suede and brown designs denote a more rugged and laid back vibe, while leather (faux or real) will come off as more elegant and sleek.
Blue jeans with dark brown shoes
For a sturdy and modern way to style your favorite jeans, dark brown shoes are always a winner. Perfect for winter, this shoe color is at its best when combined with a jacket or coat. For men looking to project a more adventurous and exploring aesthetic, again hiking or Chelsea boots are the way to go.
On the other hand, if you are looking for the perfect shoe to complement your casual outfit, you have two options. For a luxurious finish, opt for elegant moccasins, while for a relaxed look, bring out the brogues.
Blue Jeans with Beige Shoes
While dark brown jeans and shoes are a perfect set for the winter months, beige prevails in summer and spring. Not only for practical reasons (who wants their beige shoes to be covered in mud after a rainy winter day?), But also to add a chic and light element to your outfits.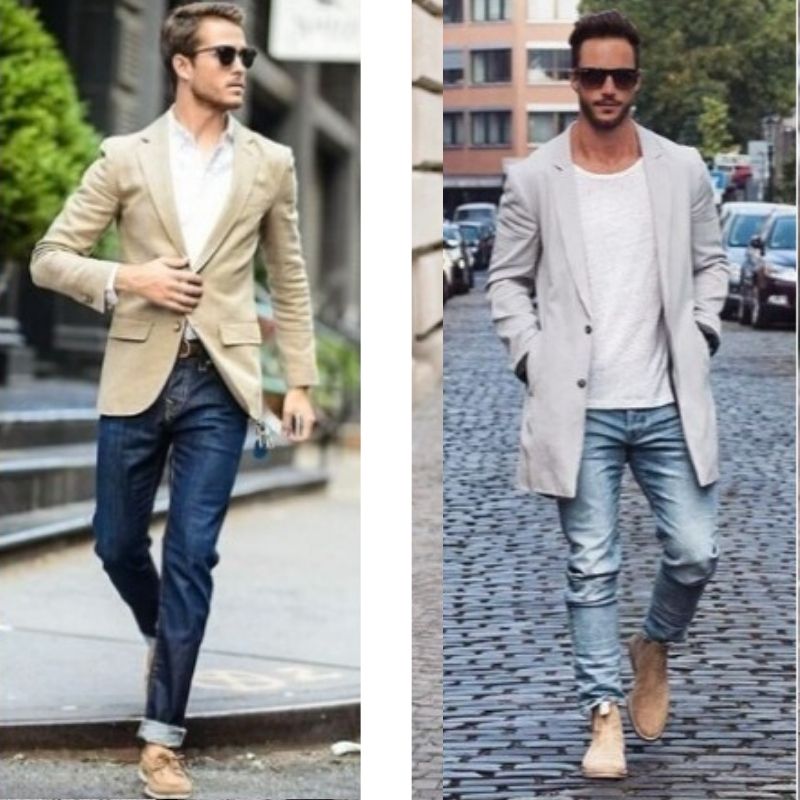 What shoes with blue jeans
Generally suitable for events or day trips, shoe styles that go well with beige include derby, moccasin and boots. However, needless to say, don't hesitate to experiment with other styles.
To balance this look, opt for a simple light-colored t-shirt for a casual approach, or a similar light-colored jacket for more class.
Can you wear sneakers with jeans?
The answer is an emphatic yes! It is officially cool to wear jeans with sneakers again. After a dark moment throughout the 90's and early noughties, jeans and sneakers are back in fashion – thanks mostly to the leisure trend. This is great news for anyone who likes to keep their look comfortable and casual.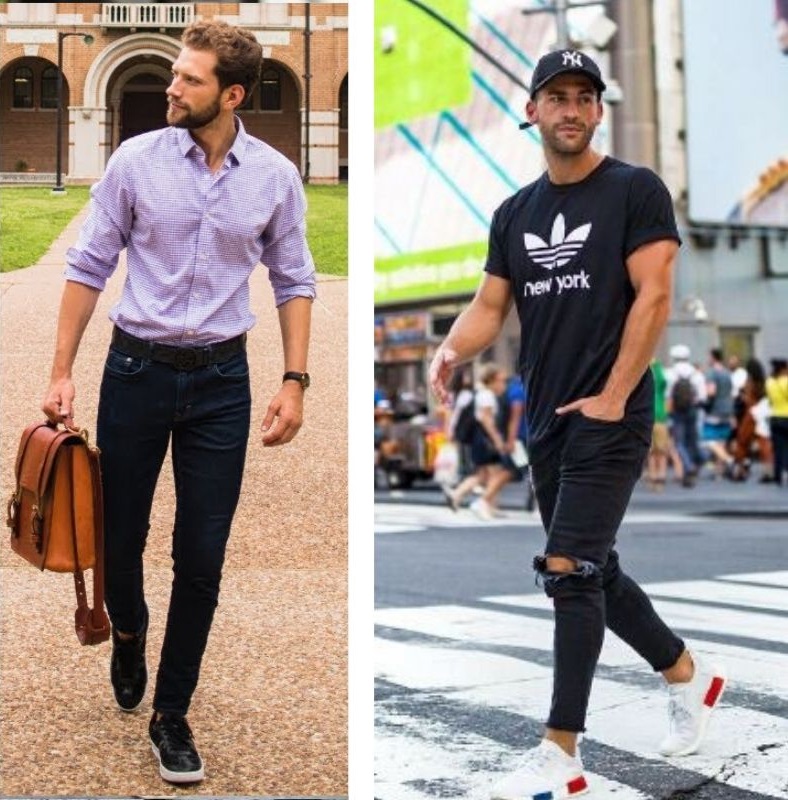 When it comes to jeans and sneakers, keep it simple. A plain white shirt, jeans and black sneakers will look fresh and relaxed. If you want to get a bit bolder, consider pairing bold colored sneakers with dark blue jeans. Sneakers and jeans are not just a casual combination, if worn with a shirt and blazer, the partnership also works for smart casual occasions
What shoes to wear with raw jeans?
To get back to the basics, raw denim is denim that hasn't been washed beforehand or that hasn't been degraded before arriving in your wardrobe. Therefore, it begins as a rigid, dark denim that fades and crumples naturally with wear.
This natural process of change that jeans undergo throughout their life will lead to a unique and natural discoloration. It is therefore preferable to match raw jeans with neutral and basic colors.
For this, we recommend deep browns, clean whites, dark blues or polished blacks. These simple and classic colors will give your raw jeans a more refined appearance, while still remaining relaxed and effortless.
Although these jeans are not suitable for official occasions, definitely consider them for "casual Fridays" at the office, or meetups with friends.
Best shoes to wear with jeans: Top tips
While light blue shoes have their place, opt for a dark blue shoe to avoid revealing stains and scuffs.
For men who want to wear black shoes with jeans, stay stylish by keeping your shoes well polished.
For a rugged, modern, rock look in the colder months, combine your blue jeans with dark brown shoes.
In summer and spring, be light and chic with beige shoes.
Choose unusual sneakers to give your blue jeans a high fashion update.
Keep your raw denim jeans refined and fresh effortlessly by matching them with classic shoe colors like brown, black, white or dark blue.
• Dress shoes dressed in loose jeans – just don't. This is the equivalent to wearing big sneakers with a suit.