We accept Both PayPal Payments & Credit Card Payments 
How to pay without creating a PayPal account?
If you click the PayPal button on the checkout page or the product page, you will be automatically directed to PayPal. The standard view is the one displayed below. If you want to pay with your credit or debit card without signing up on the page, click on "Pay with card".
Now, you are presented with a form that requires the information about your credit or debit card. Depending on your country, you may also be asked to enter your address, email address, or phone number. Enter your personal information, billing address and credit or debit card information into the appropriate lines on the input screen.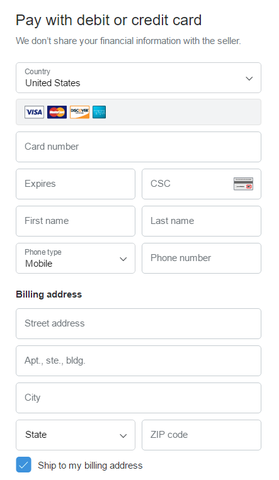 Afterwards, you will be asked whether you want to create a PayPal account at the bottom of the form. If you decide to do so, you can tick the box and register with the information entered. If you still have no desire to use PayPal more regularly by entering your information, you can skip the box and click the "Agree and Continue" button when you are done.