How to wear joggers fashionably
Move over chinos, jeans and cargo pants, casual wear has some new competition in town – and it's here to stay. The jogger is the new inescapable style for men and it dominates the street style scene. Not only for sportsmen, these comfortable pants are fast becoming a new basic element for many guys wardrobes.
Unless you have been sleeping under a very large and mossy rock, it's impossible not to notice how men's fashion has been revolutionized. The lines between casual and smart have been well and truly blurred, with joggers now taking a more pivotal role in fashion wear. This is great news because, let's face it, joggers are probably some of the most comfortable pants you will ever wear.
So yes, the days when joggers were considered the official "give up pants" of men worldwide are far behind us. But what does this mean in terms of how to wear joggers with style? After all, elevating these pants from casual to smartish wear still needs some thought.
Here we explore what joggers are and how you can inject these comfy pants into your wardrobe, and explode your style.
Let's go!
Difference between joggers and sweatpants: Joggers vs Sweatpants
What are joggers? They're the same as sweatpants – right? Well, actually – no. There are some subtle but significant differences between them. Typically joggers are baggier at the top tapering down at the bottom. Sweatpants, on the other hand, are usually straight up and down – although in truth neither of these aesthetic rules are set in stone.
However, the main difference between joggers and sweatpants is the material. Joggers, in comparison to sweatpants, are far more lightweight. One reason for this is that they were originally designed to keep joggers cool while they ran. This makes joggers ideal for spring, summer and autumn months.
Sweatpants, on the other hand, are made from much thicker denser material.  So sweatpants are great for colder months, and because of the thicker material they help make you sweat – hence the name.
Want more style tips? Check out – How to wear a cardigan without looking dated.
Types of Joggers
If you want to know how to wear joggers with panache, it's good to know the types of joggers there are out there. Here we show you some of the main varieties.
Tuxedo stripe joggers
When you think of tuxedo stripe joggers the Adidas brand usually springs to mind. These are striking black joggers with a white stripe running down either sides of the legs. If you want to take these from pants you lounge in, to joggers you strut the town in, try pairing these with a white turtleneck and some loafers.
Twill Jogger
What are twill joggers? Joggers made from cotton twill usually have elasticated drawstring waist plus some side pockets. These types of joggers tend to have tapered legs and a zip at the hem. great for those seeking a smarter jogger style.
---
Capthatt  makes high-quality men's clothing and pants and joggers. All of their products are handmade and of excellent quality. Use promo code platinum1 to get a special 20% discount.
---
Drop Crotch Jogger
These are pretty popular right now and for good reason. If you need extra flexibility and room when your exercising, these are  ideal. The drop crotch has also become the streetwear jogger of choice. And why not? Whether paired with a crisp white T-shirt, or ribbed tank top, these look good. As an added bonus, they are usually made with breathable material.
Chino Jogger
Chino joggers have such a strong style game that these streetwear/sportswear can't help but look stylish. If you want a more defined look, with clean lines, then these joggers should be right up your alley. These smart joggers can be taken on vacation or worn at informal lunches. Chino joggers are one of the few jogger types that pair well with a blazer and tie.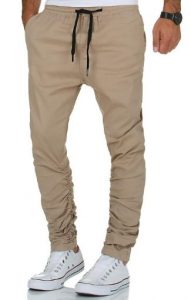 Tapered Jogger
Tapered joggers are the kind we generally associate with exercising. The tapering in at the bottom allows them to fit snugly around the ankle, so no flapping around while you exercise. As joggers go, these are designed to allow you to get the most out of your workout time, while not sacrificing style.
Leather panel jogger pants
If the tapered jogger was all about the workout, the leather panel jogger is all about the street style. They come with a panel made out of leather, usually positioned at the front. These joggers will definitely give a fresh slant to any casual wardrobe. All in all, the leather panel joggers are joggers with attitude, in the best possible way.
Cargo Jogger
For all those who appreciate a good pair of cargo pants,  you will be pleased to know that joggers have adopted some vital features. The cargo jogger offers all the best parts of the original jogger, tapering at the ankle, breathability, with the addition of cargo pockets. This is definitely a style step up on the joggers part. For those who need their pockets, these cargo joggers offer comfort, extra pockets, flexibility, wrapped up in a happy little ball. Great wearability and with the addition of convenience, whats not to love?
What to wear with joggers
Joggers with polo shirts
Wear your joggers with a well-fitting polo shirt. You can combine your favorite sandals or sneakers for a comfortable and casual look. For that laid back, "just chillin vibe", pair with your favorite snapback
Jogger pants and long sleeved top
Long sleeves tops made of material such as flannel, denim or a plaid shirt can be combined with your joggers. Try complementing your outfit with loafers or sneakers that add a touch of elegance to your look.
Jogger pants and sweater
Just as you wear sweaters with your Chino pants, you can also pull this off with your joggers. Wear them when meeting friends for lunch and impress with your cozy and stylish outfit!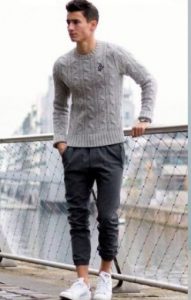 Joggers and denim jackets
A denim jacket is one of those timeless classics. When worn the right way, it can exude masculine ruggedness. This versatile jacket can be paired with everything, including jogging pants. If you want to wear it, choose a darker jacket like indigo or gray.
Joggers and pant suits
There was a time when joggers and jackets where only for men who yelled at pigeons and nursed their ciders on park benches. But times have changed, and if you don't think a jacket can be paired with joggers, think again! Yes, it can definitely be combined for that streamlined look, keep the colors of your jacket and joggers the same.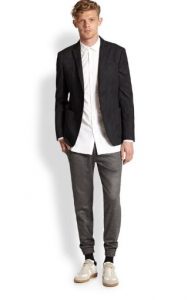 Best joggers for men
Joggers were designed with exercise in mind, so they will always have one common denominator – comfort. That means by nature (although they can be smartened up) they tend to lend themselves to the more laid back relaxed look.
However, you don't want to look so relaxed in your joggers that you look sloppy. When it comes to wearing a pair outside with style, there are some guidelines. For example, choose the wrong style, cut, design and suddenly those joggers start to look suspiciously like a pair of "give up pants".
Here we reveal a few choices so you can avoid any questionable looks.
Color
Men's Black Sweatpants/Joggers
The best color jogger? Really the skies are the limits, but if in doubt go for black. These are the most popular color of choice for joggers since they are understated, classic and versatile. With black joggers you have more room to experiment with the rest of your outfit, as it serves as a neutral base. Want to go sporty? Choose some tapered fit black joggers. Need a touch of class? Opt for black chino joggers.
Grey Joggers
Needless to say that dark grey and black joggers are the most popular. Grey joggers, are seen more in streetwear and are almost as classic as black. In truth, grey joggers are a little harder to smarten up than black, but if you are going all out for casual wear, they are an excellent choice
Just bear in mind that black and grey joggers are only the tip of the iceberg, there are many colors to chose from in joggers. If you want to explore colors a little further, without getting to wild, try camo. This color is growing increasingly popular and can also be paired with so many other items of clothing.
Style
As mentioned in the types of joggers, the style you choose will define how they can be worn. Casual joggers tend to come in an array of colors and prints. The more casual joggers are also baggier, like the drop crotch jogger. On the flip side, the smart joggers are more limited in their colors, (black, navy, grey) and are usually a slimmer fit. With smart joggers think clean lines and a unfussy appearance.
How to Wear Joggers
If you are struggling to smarten joggers up, reach for a clean white T-shirt
For maximum style and smartness, wear chino joggers with a jacket.
Layer up your look to mix up your style and give it another dimension
If you want to wear joggers with a jacket, choose shorter styles, such as a denim jacket, bomber or biker.
Depending on the jogger type, see above, pair joggers with some quality trainers or even loafers.