Monk Strap Shoes History – Revealed
If you have ever fancied a change from your usual Oxfords or loafers, monk strap shoes may well be on your radar. These distinctive shoes made their mark around the mid 2000's after being showcased at fashion week. Since then, they have graced the feet of many men looking for an alternative to the usual dress shoe.
While growing in popularity, wearing monk strap shoes is still seen as a bold fashion move. Perhaps because when they first made their debut, they were clunkier and less aesthetically pleasing. However, the monk shoe of today is a different affair altogether. With rounded toes and cleaner lines, they are much sleeker, stylish and wearable.
And if you thought that these shoes, in comparison to classic derbys and loafers, are still retaliative newcomers – think again. Actually, nothing could be further from the truth. In fact, with the history monks have, they should be considered the granddaddy among dress shoes.
Love them or hate them, there is no doubt that monk strap shoes are interesting to look at, and are interesting historically too. So let's answer questions like; why are they called monk strap shoes? And where did they come from? In this short history of monks straps.
---
Capthatt  makes high-quality men's shoes. All of their products are of excellent quality. Use promo code platinum1 to get a special 20% discount.
---
What are monk strap shoes?
The construction of monk straps is best described as something between a loafer and an oxford shoe. A monk strap has no lacing system to speak of, and is supported by a wide strap of leather across the top – also known as the vamp. However, what really distinguishes monk straps from other shoes are the side buckles.  One buckle (single monk strap) or two buckles (double monk strap).
Buckles on a monk strap come in all shapes and sizes, which can make the shoe look striking and fashion forward. However, if you want a buckle that will continue to be shiny for years to come, and not rust, we suggest you stick to brass.
Monk strap shoes history
The history of monk strap shoes begins in the Alps around the 14th-15th century. It is said that the working monks, who were constantly plowing the fields, and walking in the mountains and hills, needed something with far more resistance and protection than their sandals could offer. It was this need that gave birth to the monk strap. The Monk strap, essentially was designed as a closed toe sandal, thus helping the monks maneuver around the rocky terrain with ease.
The shoes, as you have probably guessed, were named after the monks that used them. And even now, you can see how the monk strap shoe evolved from being a closed toe sandal to the stylish shoe we see today.
So how did the monk shoe go from being worn by monks, to being considered a fashion item? Their move from the Alps to clothing stores isn't so clear. However, it is said, that an English gent visiting the Alps took a liking to the shoes and brought them back with him. The rest, as they say, is history.
Want more style tips? Read: Best Shoes To Wear With Jeans – your questions answered.
Are monk shoes formal?
Whether monk strap shoes are formal is still up for debate. It could be said that monk shoes are more formal than derbys yet less formal than oxfords. For example, in the UK, a single buckle black monk shoe is considered formal. This would often be paired with a tan or black suit for the office.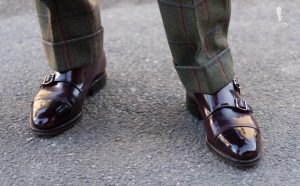 The general consensus is that double monk strap shoes are less formal. You will find the more "out there" colors and styles in the double strap monks, rather than the single. But, to be fair, even the double strap monks can be smartened up if carefully selected. If you want to keep your look formal, as with any shoe, go for monks that have cleaner patterns and darker colors.