What to wear loafers with, a guys guide
What you wear on your feet can make or break an outfit, so knowing how to wear loafers the right way can seriously level up your style.  These classic shoes, unlike many others, ride that thin line between formal and informal, giving them great versatility. They are also one of the most comfortable shoes you can find, a good pair can hug your feet just right, while giving them enough room.
But I'm sure you don't just want to shove a pair of loafers on your feet and go about your day, After all, excellent style is about knowing how to wear what you wear the best way. So if you are wondering things like; should you wear loafers with socks? How to wear loafers with jeans? Or even whether loafers can be worn as formal shoes? Then this short guide will help you, as we give you the low down on loafers.
Want more style tips? Check out: How to tie mens scarves
The History of Loafers, In A Nutshell
The classic loafer has been an essential part of menswear since its invention in Norway in 1930. The short story goes something like this:
1930: Nils Gregoriusson Tveranger introduces a new design called Aurland moccasin (later renamed Aurland shoe) in Norway.
Late 1930s: The Spaulding family in New Hampshire start making shoes based on Tveranger's design and call them 'loafers'.
1934: GH Bass starts making loafers under the name 'Weejuns' (as in, Norway).
1950s: Loafers become a significant part of men's casual shoe attire.
What are loafers?
The loafer is termed as "low shoe," which means that the ankle is exposed when wearing. Loafers are a slip on shoe, so they never have shoe laces – which is often the appeal. While there may be some exceptions, in general, loafers are usually designed with low heels.
Another way to identify loafers is that they will have a separate sole and heel, unlike their close cousin the moccasin.
However, loafers and moccasins do look similar – which can lead to confusion when identifying between them. Loafers are believed to be based on moccasins worn by Native Americans. That being said, modern loafer styles differ a great deal from the original moccasin, particularly when it comes to the dressier types.
---
Capthatt  makes high-quality men's loafers and men's shoes All of their products are handmade and of excellent quality. Use promo code capt7 to get a special 20% discount.
---
Loafers vs Moccasins
Other ways to identify a pair of loafers from a pair of moccasins.
Moccasins usually have a lace across the shoe top.
Loafers have heels while moccasins never do
Moccasins, unlike loafers, do not have a separate sole.
Loafers tend to be more plain than moccasins, which are usually more embellished with beading, embroidery or type of ornamentation on the uppers.
A major difference  is that loafers are normally made from leather while moccasins are constructed from suede or materials
Another difference is that while loafers are flat shoe slip-ons, moccasins have a more prominent sole.
Of course there are many shoe styles, and loafers and moccasins are constantly evolving, so take this as a guideline rather than rules set in stone.
Loafer Types
As you can probably imagine, having been around for almost 80 years, the loafer has gone through some changes. Here are a few styles you may encounter in your search for the perfect loafer:
The Penny Loafer
As classic as classic gets. The Penny loafer has a leather strap on the top of the shoe with a diamond shaped slot just wide enough to hold a small coin. One theory states that the coin slot was a fashion statement made by American prep school students in the 1950s. Another says this was designed so the carrier could carry a coin if they needed to make an emergency call. No matter what the origins, the style has become a fashion legend.
Tassel Loafer
The actual origins of tassel loafer are unclear, but one possible story involves a Hungarian-American actor who owned a pair of Oxfords with tassels at the ends of the laces. The Alden Shoe Company was required to do something similar, and came up with a slip-on pattern that used the tassel as a decoration. In 1950, they launched the shoe after experimenting with the design, and the tassel loafer was a hit.
Snaffle Loafer aka The Gucci Loafer or the Horsebit Loafer
You have Gucci to thank for this one. The snaffle loafer – aka the Gucci Loafer – was introduced in 1968. Its hallmark was a golden brass strap in the form of a horse's snaffle bit laid over the front. Gucci also turned the traditionally brown loafer black, making it just formal enough to be worn with suits. A loafer revolution was born, and big names like Gianni Agnelli and John F. Kennedy continued to grow the shoes.
Apron Toe Loafer
Apron loafers can be identified by visible edges or seams ending the toe (thus forming a kind of "apron" along the front of the shoe). Also known as moc toe, apron loafers have a separate piece of leather that extends from the bottom of the top line around the shoe itself. The resulting stitch line gives the impression of a "crease" between the top and bottom.
The Belgian Loafer
Invented in the 1950s by Henri Bendel, these slipper-like shoes with distinctive bows soon became a hit with high society, favored by both men and women in the 1960s and '70s.
Belgian loafers are often soft soled and come in a variety of unusual colors, such as  bright pink, tartan and  patterns that definitely push fashion boundaries.
If you enjoy extravagant shoes that don't fit in any boxes (figuratively speaking), Belgian loafers may just be right for you.
Knowing the options available is only half the battle. Once you get loafers in your wardrobe, you will learn the next step to wear them with style and swagger.
How to wear loafers
The loafer can replace just about any other shoe in an outfit while adding an extra dash of dapper to your look. Loafers naturally extend the distance between formal and informal, making them ideal for a beautifully relaxed ensemble. When talking chinos or tailored shorts on the bottom, and blazers and button-downs on top, tasselled loafers are a winning option. A sleek Gucci-style loafer is also a polished choice. Below are some other options for combining loafers with outfits.
Casual wear – loafers with jeans
If you are wondering, is it OK to wear loafers with jeans? The answer is a firm yes! What loafers do, when worn with jeans, is upgrade your casual pants. But you do need to be conscious about the top you decide to wear with it, a simple white T-shirt will just look odd. Instead, try a smart fitted shirt, or even a slim fit roll neck sweater.
Want to exude that laid-back vibe? – Try some dark brown Penny loafers and combine them with jeans. To really drive home that laid-back style, wear a looser fitting shirt with the top buttons undone. While this is a great beach style, it can also work for the man about town.
As for the fit of jeans, a skinny fit can work remarkably well with loafers. Try a crew neck red sweater with skinny black jeans to create a current casual smart outfit.
Casual wear – Loafers without socks
Loafers can be worn with or without socks depending on the wearer's taste. But first, it should be said that the questions regarding loafers with socks vs no socks is usually a seasonal issue rather than a fashion one. After all, going sockless  in the chillier months is probably not a good idea.
Going sockless is an ideal option when staying cool on hotter days. Also, there will be some loafer styles that just don't look right when worn with socks.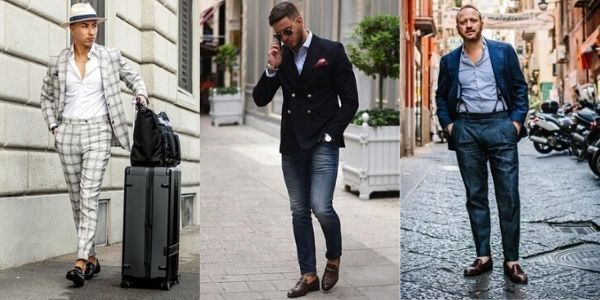 For something very on trend, a grey plaid suit with long sleeve shirt is ideal. Worn sockless with some tassel loafers, or penny loafers, this is an eye catching look. Not feeling this? Try your loafers with a navy blazer and grey chinos, this look can be pulled off in no time, you will also look sharp as a tack without spending ages going through your wardrobe.
Semi formal – Loafers with suits
Here's the thing, it's not impossible to wear loafers with a suit – if you choose carefully. A hyper-tailored 3-piece company suit is too much for a loafer, but a more casual suit or blazer / sportscoat combination can work. Look for dark colors, high quality materials, a refined shape and minimal distracting details.
Semi formal – Loafers with pants, which ones?
When it comes to choosing pants to wear with loafers, you really need to mind the gap – so to speak. Wear pants that are not long enough, and particularly sockless, and you get that weird space between the hem and the loafer.  On the other hand, if you go for longer pants then they will cover the top of your loafers ruining your style. The best option is to go for pants that finish around the ankle.
For work opt for a pair of classic pants in either black, grey or navy. Whatever pants you choose, make sure that they finish right in the center of your ankle. This shows just enough skin without looking sloppy. Once you get the pants on point, mix it up a little. For example, loafers work incredibly well with a navy velvet blazer and black dress pants combination.