How to: Tie a men's scarf, manly scarf knots
Maybe you're reading this title and thinking, "how to tie mens scarves, what do I need to know that for?" Perhaps it's just some fabric you fling over your neck a few times before heading out the door.
While knowing ways to tie a scarf is not on top of most peoples "to do lists" it does hold some importance. I mean, you wouldn't wear your crisp new jacket with one sleeve rolled up, and the buttons in the wrong holes, unless looking like a train wreck is your thing. So why not put the same effort into how to tie your scarf?
Scarves are not just an accessory for women, in fact back in the early 20th century pilots wearing scarves in the cockpit was the norm. The only difference now is we have far more choice.
Anyhow, lets get on with showing you some manly scarf knots that put the capital D in Dapper.
Best scarf length
First of all let's address the scarf length. When choosing a man's scarf length, you can go according to your height. However, as a guide do as follows:
Short scarf length is: 50-60 inches
Standard scarf length is: 70 inches
Long scarf length is: 82 inches
Scarf width: For men this is 6-7 inches
How to measure scarf length
If you want to customize your scarf length a bit, and go according to your height. The best way to know your correct scarf measurement is to pass a tape or a piece of string behind our neck and make both ends reach your waist. With this simple trick, you can find the perfect length scarf for you.
Ivy league style scarf
This has to be one of the easiest ways to tie a scarf knot, yet it has so much impact. A great first-choice for formal wear and on the occasions when you want to add a dash of color.
This style comes with two variations:
Just like in step 1, you can simply drape your scarf over the shoulder.
Or, just as in step 3, you cross the scarf to make an X and then tuck it into your jacket.
The ivy league scarf style is ideal for occasions when you're wearing a dinner jacket or tuxedo. However, be aware that this style cannot be worn with every length of scarf, particularly if you want to keep your look sharp. For example, if your scarf happens to stop below your jacket then it's not the best style for obvious reasons.
If you are wearing a topcoat, it actually looks anything but smart and pulled together when you wear a scarf over the lapels. We recommend in this case you either tuck the scarf, like you see in example 3 or opt for another type of scarf knot.
---
Capthatt  makes high-quality men's clothing and men's hats. All of their products are handmade and of excellent quality. Use promo code capt7 to get a special 20% discount.
The drape scarf style

The Drape scarf style is a classic way to wear you scarf that is not necessarily the most functional, but it is certainly stylish. It is similar to the Ivy League, with one difference, when tucked into the jacket it is not crossed over, but simply draped (hence the name). Use this type of scarf style when you want to add a dash of color to a dull colored overcoat.
The scarf drape is best worn when the weather is edging on being cold, rather than being really chilly outside. For this style of scarf to work, make sure that the scar is of equal lengths on each side and simply don't tie it – that's it.
Top tip: This works well with regular and short length scarves.
The Chest Warmer

If you are looking for a way to tie your scarf in colder weather, this is it. It's worth noting this method of tying scarves only works for the longer length scarves. It is probably the most secure way of tying your scarf , with the assurance that your scarf will be staying put and keep you warm for as long as you need.
Simply start with the scarf draping at equal length, cross the scarf around your middle and tie securely at the back. The result should look like example 4, where you have an X in the front of your body. Then simply put on your coat and you're ready to go!
This is a great way to wear a scarf in colder weather. Again, you don't really tie this scarf knot, but it provides a lot of protection to the neck.
Tip: Only single knot the scarf at the back to avoid extra lumps and bumps
Reverse Drape

The reverse drape is another way to wear your scarf knot that actually doesn't involve any tying. This is great for colder weather since it does provide a nice amount of protection for your neck.
To achieve this neck scarf style, simply drape your scarf across your neck, ensuring that the ends are of equal length. Then bring one end over your shoulder and do the same with the other.
Tip: This easy way to wear your scarf is a solid choice when your in a rush and want something stylish yet protective.
Parisian scarf knot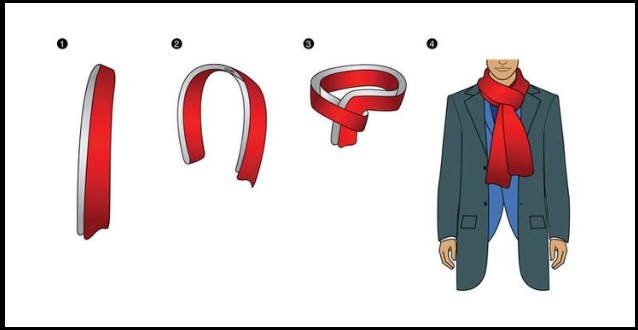 Want some added sophistication, then go for the Parisian knot, this is also known as the European loop and the French. This scarf knot gives your look an added flair, well worth trying particularly if you're going somewhere that you want to make a stylish impression.
One thing that you should note is that the Parisian knot needs a longer scarf. So if you have a 60 inches scarf or under then leave this scarf knot alone. The ideal length to get this look right is with a scarf length of 70 inches and above.
The only exception to this is if you happen to be a smaller guy, in which case refer back to how to measure your scarf length above.
First you fold the tie in half (which is why you need the longer scarf in the first place) and loop this around your neck. Just like in example 3, one side should have a loop and you feed the the  the other the ends of the scarf to feed through the loop.
Pull and straighten the scarf, wearing the ends over your coat lapel or pulled out.
Tips: Make sure you check the weave of your scarf when doing this type of scarf knot, a bulkier weave will throw this scarf style completely off balance. This type of scarf knot also works very well with silk scarves.
The Fake Knot
The fake knot is exactly what it says it is, a fake knot, best of all it's pretty simple to achieve. This scarf style is less function and more fashion, so bear this in mind when you go for it.
This knot is great if you have a bulkier scarf and you need something that isn't too complex and is easy to remember. The fake scarf knot is ideal for longer scarves, but you could get away with using a medium scarf too.
So take one side of the scarf and tie into a very simple knot, ensuring this is kept very loose like you see in example 3. Now bring the other scarf side and pull it through the loop.
Once you've done this you will have your fake knot. In general, women tend to wear their knots a little lower than men, who wear theirs closer to their necks.
Top tip: This type of way to tie a scarf works well with patterns scarves.
The Twice around
The twice around is not technically a scarf knot, it is just a way of wrapping a scarf around the neck. However, unlike the drape scarf knot, which is more style than function, this type of scarf knot is very good at keep the chill out. In fact, if you are living in colder climates this is certainly a scarf knot method that you should try.
With the twice around you will need a longer scarf. The ideal length should be around 80-90 inch length, although anything from 75 inches upwards will do.
To begin this type of scarf knot, ensure both ends of the scarf is, then pull one side down until one side is a quarter length shorter then the other side, which should be 3/4 length longer, as in example 1. Then, just wrap the scarf around your neck twice.
This type of knot work very well when you're going to close your jacket to the top as it gives a snug seal to the whole neck area.
Top tip: This type of scarf knot works well with simple patterns and plain colors. Avoid overly fussy patterns with this style as the layering affect will not work well with it.
Conclusion
So knowing how to tie mens scarves in the best possible way for your style is easy. Just keep in mind that scarves should be used for function first, but once you know the basics you will be ready to rock this timeless piece of menswear.