How to wear a hoodie – guys
To be fair, in the past, hoodies haven't had the best fashion rep.  For years, they seemed to be the clothing choice of angst ridden teens and dodgy dudes, not style conscious men. But that was definitely back then and not now.  Due to the uprising in sports fashion, items like sweatshirts and tracksuits are seen as contemporary and "hip".  However, they are not the only sports clothing in this hip new category, hoodies certainly come under this umbrella too.
On a more practical note, the modest hoodie is also comfortable and warm. It is one of those loose fitting clothe pieces that every modern man should own. Of course, hoodies are great for relaxing and doing your thing around the house. However, it can be worn as a cool laid back weekend outfit – if you pair it with the right pieces.
So, before you dash out the door in your hoodie and joggers, read this guide carefully. Here we show you how to wear a hoodie for a stylish look that ticks all the right boxes.
What is a hoodie?
Before we delve into how to wear a hoodie, we should first establish what a hoodie actually is. Despite contrary beliefs, they never have zippers nor, for that matter, any buttons. What a hoodie essentially is, is a hooded sweatshirt with an attached hood. But why is it called a "hoodie"? I hear you ask. The catchy abbreviation of hooded sweatshirts was derived from the up-rise of Hip-Hop culture in the nineties, and has since stuck in mainstream American vocabulary.
Made popular by athletes, nowadays hoodies can be seen on all types of people, doing all kinds of activities. It is a protective garment, so normally designed to be warm and comfortable with fitted cuffs that retain body heat. The hood is essentially a buffer against the elements. So whether you are training, or just out for a walk, it should insulate your head from the cold and act as a barrier against the rain.
Hoodies tend to be loose, non binding and made of cotton. However, because hoodies are worn year round, you will find hoodies made of all kinds of materials from the heavy duty to the light weight
Many hoodies also feature large pockets, or front pockets for keeping your hands warm and carrying various items. The sheer convenience of a good hoodie makes it a staple in many men's wardrobes.
What Is a Hoodie With a Zipper Called?
This is a loaded question because, as mentioned before, a hoodie cannot have zippers or buttons. So, even though a hoodie with zipper seems like a piece of clothing that should have something to do with hoodies, technically speaking it doesn't. However, in the case of jackets, they can come with hoods or not, and usually have a zipper.
Therefore, what is a hoodie with a zipper called? The best answer to that would be that this should be called a hooded jacket and not a hoodie with a zipper.
The history of hoodies
Most of us know that hoodies have strong links to the hip-hop culture, as well as punks and skaters. Hoodies have been a part of communities at the fringes of society, thus they are often seen as bold and edgy, despite now being part of general fashion.
But who made the first hoodie? There are claims by Champion Products, which began in 1919 as the Knickerbocker Knitting Company, that they were the original inventors. The company began making sweatshirts in early 1930s.  According to Harold Lipson, a former president of Champions, hoods were added to sweatshirts so athletes and laborers could be protected from the weather.
However, the hoodie didn't cross over into mainstream clothing until athletes began wearing them. Instead of chucking their hoodies back in their lockers after a game, many would hand their track gear to their girlfriends to wear. Before long, this fashion trend spilled beyond the school gates, and regular joes began wearing them.
Hoodies in USA
Fast forward to the seventies when the hip-hop culture was growing on the streets of New York City. Early graffiti artist Eric Felisbret, recollects the hoodie arriving on the scene about 1974 or 1975. "They were items break-dancers wore "to keep their bodies warm before hitting the floor."He says, graffiti artists also used hoodies to keep a low profile while spray painting walls.
Around the same time, in Santa Monica, kids looking for an alternative to surfing, began skating in empty swimming pools. Skate teams like the Z boys would don their hoodies and skate in empty swimming pools. Needless to say, with their particularly aggressive skate style, they and many other skaters were unwanted guests.
For years, the hoodie became synonymous with youthful rebellion. However, designers such as Ralph Lauren began taking their fashion inspiration from the streets. It was due to this, that the hoodie image was repackaged and cleaned up. Suddenly it wasn't just a fashion item for kids on the edge of society, but a fashion item that everyone could wear and enjoy.
.
---
Capthatt  makes high-quality men's sweater and pullovers. All of their products are handmade and of excellent quality. Use promo code platinum1 to get a special 20% discount.
---
Types of hoodies
For reasons mentioned above, the zipper hoodie will not be included. However the three main types of hoodies are;
Overhead hoodie
Also known as pullover hoodie, these are the ones that most people will be wearing. The style is typically loose with drawstrings in the hood to adjust the opening.
Over the head hoodies (or  overhead hoodies)  are commonly worn in relaxed  and informal settings. You can find them in the usual grey and black, but they also look good in bolder colors and designs. Overhead hoodies are often soft and thick, so many people wear them to sleep in – particularly if they are a size or two larger. Relatively inexpensive, these types of hoodies are ideal for occasions when you just want to throw something on and head for the door.
Slim fit hoodies
Made more popular by buff gym guys, these types of hoodies have become the go to hoodie of the fashion conscious man. The streamline fit is due to manufacturers using more elastane, they are also tighter at the base with more closely fitting sleeves.
Not just for built gym guys, slim hoodies are a great option if you are on the shorter side, as they tend to elongate your body. There lack of excess fabric gives them a streamline appearance, which is why they look great when going for a casual/smart hoodie.  Slim fit hoodies can be made from anything from polyester to cotton, however the key to the fit is the elastane in each one.
Unlike regular hoodies, where you may want them bigger, slim fit's should always be worn true to size.
Skater hoodie
Made for skaters – hence the name, these sort of hoodies can usually be seen in skating rinks and even out on the slopes. They can be sleeveless, which is a bonus for any guy who has been working out and wants to show off the "guns".  But did you know that the lack of sleeves on skater hoodies is not just for aesthetics? These hoodies were designed to reduce wind drag when skating. In the case of figure skaters, where this type of hoodie is also worn, it gives freedom of movement and extra flexibility.
You don't have to be a skater to don a skater hoodie. Wear it down by the beach, or as a piece that gives extra ventilation when jogging. This is also the perfect hoodie to use when layering up your clothing. Worn underneath a shirt or jacket, it ads style without the extra bulk that sleeves bring.
How to Style a Hoodie
Now we've told you a little about hoodies, here are some outfit ideas with a Hoodie that you can choose from.
Bomber jacket and Hoodie
For a contemporary urban outfit, try wearing a bomber jacket with your hoodie. Although the look is not as classic as other hoodie pairings, it can work just as well.
Choose a hoodie in classic colors, like gray, black or navy. Then, combine it with your favorite type of bomber, whether it's nylon, wool or with leather sleeves.
To round up this casual urban look, add black or dark blue jeans and a pair of nice looking sneakers.  The results will be a modern downtown style, with undertones of athletic influence
Leather jacket with hoodie
One of the best ways to keep warm in winter is to put on a hooded hoodie under a leather jacket. In addition to offering warmth, the look comes off as relaxed and elegant.
To keep the style robust and edgy, opt for a black biker jacket and pair it with a black skater hoodie. Then add slim jeans in black for a rock aesthetic or in blue for a more urban look.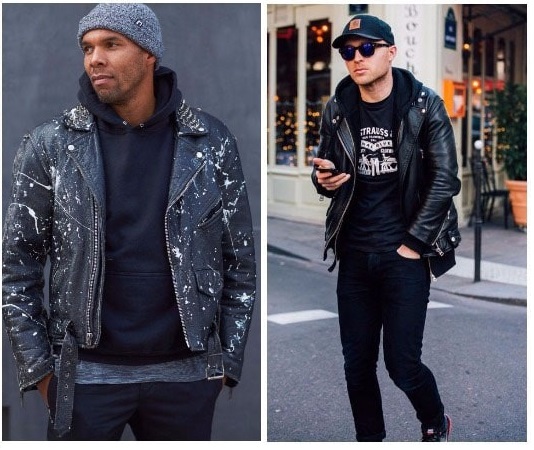 If you want to wear black jeans, but are worried that the outfit will seem too dark, try separating it with a light gray or white T-shirt. Better still, choose a t-shirt with some sort of print under your open jacket.
Parka jacket and hoodie
Protect yourself from the wind, rain and cold in style this winter by combining a hooded hoodie and a parka jacket. Not only is this warm and practical, it can also look modern and classy. To really turn heads, keep things clean and contemporary.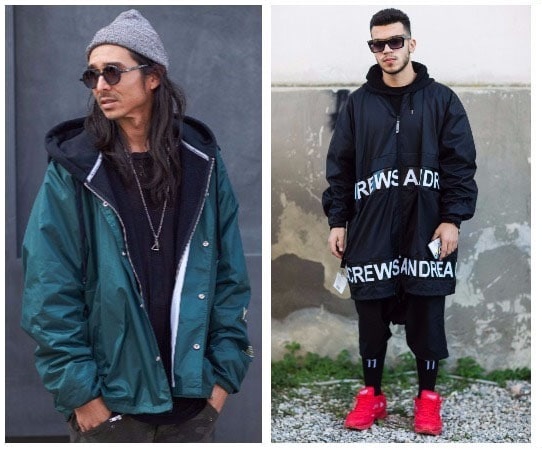 Start by choosing a quality hoodless parka in a navy or green shade. While black can work, it may seem overbearingly dark if you plan on wearing it with a black hoodie.
Complete your look with both neutral or understated pieces. Simple slim black pants and a light gray long sleeve hoodie should do the trick.
Denim jacket and hoodie
Pairing a hoodie with a denim jacket is a great way to give you that laid-back, chilled look. Although you can choose from many types of denim jackets for the outfit, a light blue option works extremely well and can suit a range of styles.
Try pairing a black or gray hoodie or hooded jacket for an elegant winter look and harmonious textures. Then, finish your outfit with a little rock and roll attitude. To do this, just choose a pair of skinny black jeans and finish with black leather Chelsea boots.