How to wear a cardigan sweater – guys
There was a time when admitting you wore a cardigan was the equivalent to a fashion swear word – particularly if you happened to be a style conscious guy. Cardigans for men (unfairly) had been relegated to men of advanced age who sucked hard candy and shook their fists at troublesome teens, they were never seen as trendy or even wearable.
But not any more.
Times they are a changing, something you must be aware of since you are wondering how to wear a cardigan as a guy. For this elevation in cardigan street cred, you can thank the likes of Gucci and Raf Simons who often have men in cardigans grace their runways.
However despite designer endorsement,  and more guys coming out as proud cardigan wearers, many men still don't know how to wear cardigans.Well here we will address that with our men's guide to wearing cardigans.
---
Capthatt  makes high-quality men's clothing and men's sweaters and cardigans. All of their products are handmade and of excellent quality. Use promo code capt7 to get a special 20% discount.
What is a Cardigan?
Essentially, the term cardigan refers to a knitted sweater that opens at the front. Often the opening of a cardigan is accompanied by buttons or zipper, but this is not a hard and fast rule.
What makes cardigans so versatile is that they can be layered in winter, and worn alone in autumn. Not only do they provide warmth, when worn in the right way, they can be a welcome addition to a more refined style. Nowadays, cardigans come in a wide range of designs and colors, making this wardrobe staple ideal for almost every occasion.
A bit of "cardigan history" for you; the cardigan owes its name to James Thomas Brudenell, seventh Earl of Cardigan, who popularized its use. This garment was part of the dress of British officers in the Crimean War. So despite being associated with comfort, cardigans have an edgy side too.
Different types of cardigans,
As I've mentioned previously, cardigans are very versatile. They come in many styles, and I dare any guy not to find a type of cardigan to match his personal tastes. There are hooded cardigans, longline silhouettes, sophisticated button up cardigans and lets not forget the chunky cable knits.
While all these styles of cardigans fall into the same category, every one will lend a different aesthetic to your look and outfit. So it's a good idea to think twice before grabbing any type of cardigan from your wardrobe. Take for example a chunky knit cardigan, if you are trying to give yourself a sleeker silhouette, this style of cardigan just won't cut it. On the other hand, a slim fit button up cardigan may just do it for you. Let's take a look at the rest.
Hooded Cardigans
This is the go to cardigan when the weather is cooler, but not cold enough for a jacket. The hood on the cardigan is a handy addition, meaning that you get that extra protection when the elements bite, without being swaddled in excess material.
Hooded cardigans can be buttoned up or come with zippers. Like most cardigans, lengths can vary, they can be knee length, waist length or even hip length. Typically you will find Hooded cardigans made from linen, knitted-wool, linen-cotton, and even cashmere.
The hooded cardigan lends the wearer a somewhat sporty look, so why not play to its strengths? Wear this type of cardigan with sweatpants or perhaps over some blue jeans.
Shawl Collar Cardigans
With its rounded turned-down collar, the shawl collar is one that is usually found on most cardigans. While not necessarily true of every cardigan that falls in this category, shawl neck cardigans tend to be a chunkier knit than other cardigans. This means that they are ideal when temperatures drop.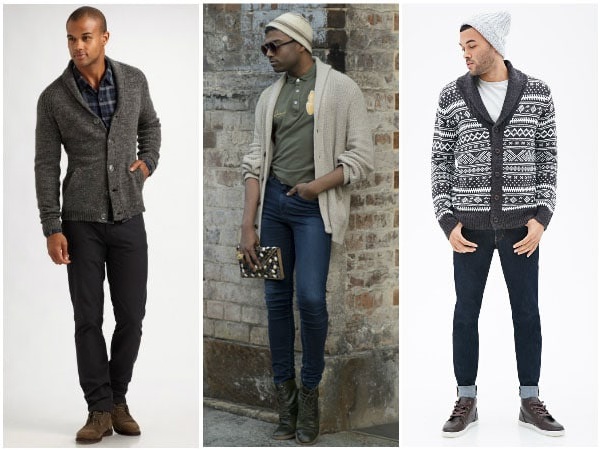 The best way to wear this type of cardigan is to keep it simple. Due to its chunky nature, shawl neck cardigans don't pair well with equally chunky jumpers underneath. The main reason (aside from adding extra girth) is that it spoils the clean lines that your outfit should be creating. Instead, pair it with t-shirt, jeans and simple trainers.
Button-Up Cardigan
This type of cardigan is the one you most likely see people wearing. Simple in its form, the classic button up cardigan can appear suave and sophisticated – if done right. To keep this type of cardigan looking fresh and masculine, opt for a well-fitted slim fitting style with simple buttons.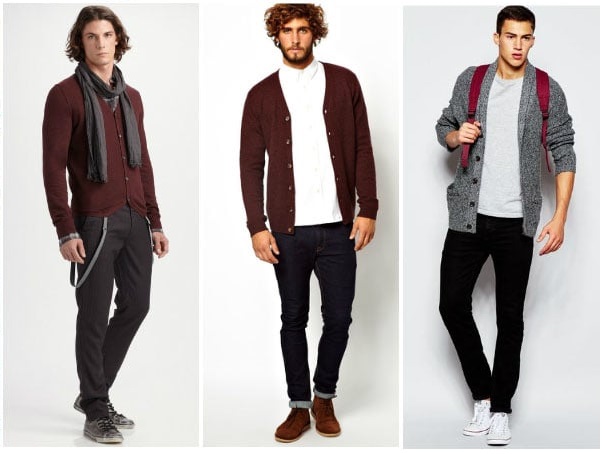 When worn in this fashion, the cardigan takes on a formal appearance, you can even try wearing it with a tie. Great options for the office, or even when you want to add a dash of the debonair to your everyday wear.
Zipped Cardigan
Zipped cardigans often look like jackets. Usually zipper cardigans come with large pockets, making them perfect for everyday wear and for colder weather.
In recent years the zipped cardigan has become a bit of a fashion statement, so you can find it in a selection of colors and designs.
One of the great things about zipped cardigans is the clean silhouette they provide, no fiddly buttons, just a zip and you are done. This means they can be worn with smarter attire, such as slacks and a quality pair of dress shoes, There is also the option of going casual with this kind of cardigan, with the rise of more creative ways to position the zipper, as in not directly down the middle, zipper cardigans can be ideal streetwear. If you want to go down this route, pair your zipper cardigan with joggers or even skinny jeans and a slim fit shirt.
Chunky Knit Cardigan
When it comes to a stylish casual look, chunky knit cardigans are no slouches. Not only are they incredibly cosy, and comfortable, they can be statement pieces.
Don't be shy about choosing styles that are a little more adventurous; cable knit designs, unique fastenings and longline styles should all be considered. You can also opt for patterns, and bolder colors, such as deep burgundy or even a geometric design. There's also the material, instead of wool perhaps go for cashmere or (as a cheaper alternative) a wool cashmere blend. With the chunky knit, you really can express your personal style.
what is a longline cardigan?
Longline Cardigan
Done right, a longline cardigan can really be a outfit maker. As the name suggests, this a cardigan with a long silhouette, making it ideal for chilled out weekends and whenever smart/casual wear is needed.
This is a style of cardigan that is most typically available in lighter fabrics, so it's ideal for that transition between summer and autumn.
Match longline cardigans with slim-fit shirts and skinny jeans for nights out on the town. The great thing about longlines is the lighter fabric, so you can be even more experimental; try a longline with a hood for that streetwear vibe, or perhaps a cowl neckline for a more alternative look.
Your Short Guide on How to Wear a Cardigan
If you are wondering what to wear with a cardigan, then understand that cardigans can be styled in many, many ways. You can go casual, sporty, formal and with different designs and patterns, you can never be hemmed in with your look.
When it comes to looking good in a cardigan, always consider the fit. The thinner the fabric the better it looks when it is fitted, chunkier cardigans tend to look at there best when they are looser.
As for length, for guys, cardigans should at least go past your belt. If you want something longer, such as a longline, these should not be so long that they sweep the floor behind you.
Keep things simple with button's, they should never be overly fussy, and always keep the last button of your cardigan undone.
What to wear with a cardigan
The rule is, when you have a cardigan with lots of patterns and bright colors, the rest of the outfit needs to be kept simple and more muted.
Casual Occasions: For casual occasions the looser fitted cardigans are ideal. If you want a cardigan that you can mix and match seamlessly, consider getting a simple button up black cardigan. This can be paired with chinos or jeans and a T-shirt.
Semi-Formal Occasions: Cardigans may be seen as a more casual clothe item, but you can do smart/ casual pretty well with them if you know how.
The fitted cardigan is ideal for something more formal. This can be paired with smart pants, a button-up shirt, and some dress shoes. To really smarten this all up, stick to neutral tones and perhaps add some quality accessories (although not too many) to lift the entire look
Cardigan colors, what to choose.
There was a time when black, brown and gray were the most common colors that cardigans for men came in. Now there are a plethora of colors to choose from, but while variety is great, it still needs to look good on you.
For choosing the cardigan colors, consider your skin tone and whether the color will suit it. Also, the seasons will certainly come in to play, an azure light blue cardigan may look the part in the summer, but come winter it will seem somewhat out of place.
Caring for your cardigan – simple tips
Firstly, let's discuss storing your cardigan. Most people hang them in the wardrobe, but this is definitely not recommended. When stored this way, you get those weird shoulder dents, the cardigan can also lose its shape this way. Instead, after wearing, fold your cardigan and leave it in your drawers or on shelves.
If you have a chunkier knit cardigan, and it has begun to pill, just run over it with an electric lint remover to restore it to its best.