Beard and hairstyle combinations: Best ways to style your hair with a beard
Beards are here to stay, with no forecast of the trend ending. But whats the point in growing a full bodied beard without taking care of your hair?
To stay polished, and on the right side of suave, it's important you find the best beard and hairstyle combination to compliment your look. After all, your beard and your hair aren't separate entities. But how do you do that? That's exactly what we're going to explore today with 7 of the best beard and hairstyle combinations around.
Beard styles for longer hair
Once your luscious mane is 3 or more fingers below the neck line, you have a free hand to completely embrace a more trimmed down beard.
This beard may be a better look for someone who doesn't want to have to maintain long hair as well as a long beard, it also saves your look from "hair overkill". A short trimmed beard with longer hair also adds a certain ruggedness to your look.
Want more beard tips? Read: How to grow a beard naturally at home
Beard styles for medium hair
Medium hair lengths work very well with many beard styles, as the length tends to be more versatile than shorter hair cuts. To really enhance your look, be adventurous and experiment with trending styles.
Hair that's left long at the top and trimmed at the side looks great with a longer, fuller beards. Feel like a shorter beard? Keep your hair longer at the sides to pull off a masculine, yet stylish look.
Medium hair length, in general, allows you the freedom to experiment with different beard lengths – so go for it!
---
Capthatt  makes high-quality men's grooming products. All of their products are of excellent quality. Use promo code capt7 to get a 20% special discount.
---
Very short hair with beard
For those who have short hair, or some type undercut, the best option is the full beard. You can style your hair with some cream, and you can even shave in a degraded style, but it is important to always keep the style very clean.
Beard and shaved head
One of the best of the best beard styles for bald men is stubble. Why? Not only does it keeps things nice and simple, it also adds a dash of manly ruggedness. This my friend is a good thing – trust me. One of the well known celebs who pulls this off effortlessly is Bruce Willis
But while stubble and a bald head go together like ice cream on a blisteringly hot day, you shouldn't bypass a fuller beard. Just avoid a big beard, bald head and bushy side burns. You have been warned.
Best hairstyle and beard for a round face
Men with round faces often find it hard find a beard style that suits them. You want to make sure that your beard doesn't add any extra width to your face, or shorten it even more.
With round face beard styles, it's all about balance. For example, since a rounder face has chubbier cheeks, a full and bushy beard will only enhance this.
For this reason goatees, are the go to beard style for men with rounder faces. They remove the volume from the sides focusing the eye to the chin area only. This makes the face appear thinner and more streamline.
But what about the hair? To get your look just right think volume on top. So bouffant hairstyles and spikes and anything that adds some height will lengthen the face. For more hairstyles for men with round faces, check out this video here
Of course you shouldn't limit yourself to just goatees, just remember to keep the chops low, so they contour your natural face shape. Also, keep the chops straight with less volume at all times.
Beard and hairstyle for a long face
The key to showcasing a longer face is in what you do with the hair's proportions. While many styles can work well, too much length on top, or too short on the sides, will only elongate the face further.
The best hairstyle for a long face is one that gives contrast, like the haircut above. In this case, the side fringe covers the forehead, significantly shortening the overall length of the face. The parting is off center, again giving some nice visual contrast that is very balancing.
Combine this hairstyle with a short beard to really give this look the impact it deserves. Avoid big and bushy beards as these only help to lengthen the face further.
Beard and hairstyle for square face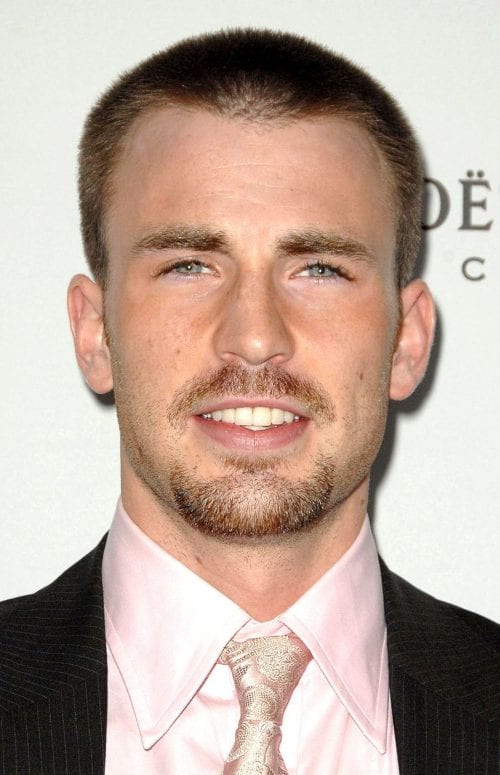 A square face has a strong jawline and is considered the most masculine of all men's face shapes. If this is your face shape, then you'll look great with a variety of hairstyles.  However, a square face is quite sharp and angular, so softening those angles is key.
Buzzcuts are short by design, so do a great job of highlighting a square face. So emphasize your sharp features with a butch cut, crew cut, or Ivy League. These type of cuts give a stylish yet regimented quality to your look, that is nicely offset with the right beard.
You want a beard that highlights, instead of exaggerates, your strong jaw line. Opt for beards that round out your chin area with softer beards like the circle beard. This both accentuates your jaw and lengthens your chin.
How To Maintain Your Beard.
Whatever beard and hairstyle combination you choose, you get what you put in. So focus on growing your beard to its own peak length (you'll know when you've reached it). You can utilized beard growth oils to achieve this
Also, if you want to retain length, use a beard trimmer on a long setting. It's also a good idea to comb with a beard brush before trimming, and always trim when dry.
Do not despair if your beard comes in patchy at first. Over time, gaps will naturally be filled in as hair grows. It's also a good idea to get your beard professionally shaped at a barber every so often.