Best haircuts for a round face man
Ever looked at a hairstyle, loved it, then imagined how it would look on you and quickly dismissed the idea? Well you're not alone. And if you're a guy with a rounder face, then this scenario has probably happened more often than not. That's because there's a common belief that guys with round faces don't suit many hairstyles.
However, this is actually untrue.
No you won't be able to get away with every hairstyle out there – that's a given – but there's plenty of hairstyles that will suit you.
So which are the best mens hairstyles for round faces ?
Glad you asked. We've created this guide to answer this exact question and show you how versatile your haircuts can be. It doesn't matter if you want something edgy of more classic, here you'll be able to find a hairstyle to feel confident in.
How to tell if you have a round face
Below you'll find 17 of the best haircuts for men with round faces. But before we get into that, ask yourself this…
Do you actually have a round face?
Not such a strange question considering what the article's about. It also means that the hairstyles you're going to look through are more relevant to you. To find out, take note of the points below:
Men with round face shapes tend to have softer features (which sometimes makes them look more youthful).
A rounder face will have little to no sharp angles, so you're much less likely to have a chiseled chin or overly defined cheekbones.
Rounder faces will roughly measure the same in both width and length.
Hopefully that should clear things up concerning your face shape. However, if you're still  undecided, check out the photos below for comparison.
Top mens hairstyles for round faces
The best haircuts for men with round faces are pretty varied. But what you should be looking for is a cut that adds dimension, volume (height) and angles – which will sharpen your face.
If done right, all this combined, should lengthen the face and make your cheeks, chin and forehead more defined and less soft looking.  Some say there shouldn't be too much forehead exposed – but this rule can be flouted if you add some height.
With that said, let's take a look at some great examples.
17 Mens hairstyles for a round face
1. Pompadour + Low Fade
The pompadour is one of the slickest hairstyles you can rock. This iconic haircut adds volume to your hair without adding too much width to the face.
This style looks even crisper combined with high skin fade or an undercut. Bare in mind that the pompadour style needs a good pomade and holding spray to create height and control.
---
Capthatt  makes high-quality mens clothing. All of their products are of excellent quality. Use promo code platinum1 to get a special 20% discount.
---
2.  Swept-Back Quiff + Facial hair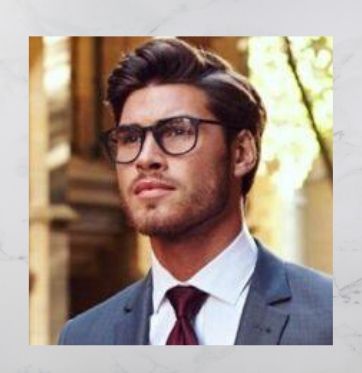 If you're wondering which of the hairstyles for guys with round faces packs a punch visually, Then wonder no more, the swept back quiff has everything you need in a top hairstyle.
Not only is it relatively simple to style, it suits most guys and of all ages. It also works if you want a hairstyle that can transitions between professional looking and something more laid back.
To take this quiff to the next level, grow some stubble – which will lean out the face even more. The addition of a parting also gives a modern day twist to this effortless style staple.
3.  Spiky hair + Texture
When you want to add height to your face shape, you can't go wrong with a spiky hairstyle. The spikes balances out the width of a round face, while still coming off as hot and edgy.
When visiting your barber, ask them to trim the sides of your hair shorter, this will further emphasis your hair height.
4. Asymmetrical Style + Side parting
An asymmetrical style does 2 things: adds dimension to your hair and creates a strong point of visual interest.
Just parting your hair off center by an inch or two, and instantly your face looks less round. Now couple this with some layers, and you've given this cut a stylish boost.
There's loads of options with asymmetrical styles. You can go classy and more understated, or get wild and tousled – it's your call. In any case, we recommend visiting a good men's hairstylist rather than a traditional barber – that way you'll get this look on point.
For styling look into creams, pomades, waxes, and pastes. This will keep the style dynamic without losing the finer details.
Want more style tip? Check out How to grow a beard naturally at home
5.  Long French Crop + Fringe
With a fringe that resembles a Caesar cut, the french crop (also called "crop top hair cut") is an excellent hairstyle for men with round faces.
This style adds layers, texture and movement and looks great with a longer fringe. For a trendy and natural looking crop, try using a matte product
6.  Flat top + Fade
This style was made for guys with round faces. It adds sharp angles, and also gives height and length to your features.
Just keep in mind that this cut will not flatter all round faces. However, if it does work for you, then this will probably be a style you'll come back to again and again
It's recommended that the sides should be cut with very short clippers – #2 to #4 is the best range. At the barbers, ask your hair to be clipped so you get that level flat surface on top.
7.  Side part + undercut
Whether teamed with a pompadour or with any other style of your choice, the side part will never let you down. Just like the asymmetrical side part, this diverts the gaze and decreases the width of the face.
You will need to have at least 2 to 4 inches of hair on top, this will make the side parting easier. Get your barber to buzz down the sides using a #3 or #6 clipper blade.
8. Slicked Back Hair + Pomade
Bring back that old fashioned charm with the classic slicked back look. No, this style isn't just reserved for the mafia, far from it.
Done right, the slicked back style can look polished and chic. If you want to add a little edge to this haircut, combine it with an undercut.e
To get the maximum effect from this, use a good quality hair pomade.
9.  Vertical Haircut + Texture
The vertical style can be combined with quite a few hairstyles (like any of the ones above). It's an attractive look with loads of volume, making it eye catching and contemporary.
Just like some of the other hairstyles for men with round faces, this plays on height and dimensions to draw the eye upwards.
If this is a style that you want to keep long term, we recommend that you get the sides cut low while leaving it longer on top.
10.  Faux Hawk + Low Fade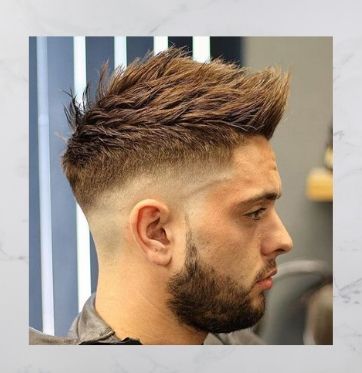 If you want to stand out from the crowd, in the best possible way, then the faux hawk is probably for you. This adventurous style gives an amazing amount of volume (which we all know is great for rounder faces) while also providing those crucial angels.
Team this with a low fade and beard, and you will have a head turning signature look.
11.  Angular Fringe + Undercut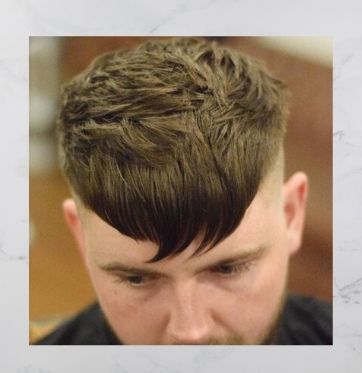 Think that heavy fringes are a no go for rounder faces? Then think again. Fringes, when done correctly, can work with any face shape – even round ones.
As with the asymmetrical parting, an off center fringe works very well with a rounder face. This is achieved two ways, by it's angles, which gives contrast to the natural soft lines of a rounder face, and it's asymmetry.
Combined with an undercut, you can rock this modern style with confidence.
12.  Buzz Cut + Beard Combination
For those who are thinning on top, or simply prefer to keep their hair low, this could be another good combination.
While the hair is low on top, the beard adds another point of focus. Also, if you keep the beard slightly longer, this can help to lengthen the face.
To give you those great angles that you're looking for, one of the best beard styles for a round face is the bandholzs (as seen above) or a goatee.
Ask your barber to shape your beard and maintain with beard oils and pomades.
13.  Wavy Hair Swept To The Side + Undercut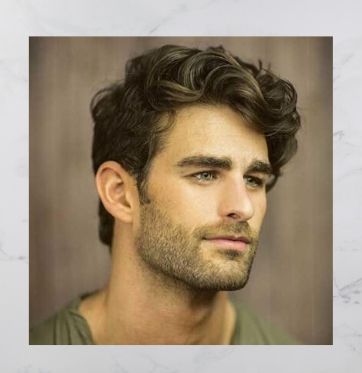 If you have wavy hair then this look will be a cinch for you. Otherwise, there are ways to create waves in straighter hair with a brush, hairdryer and some good pomade.
Needless to say, brushing hair off to the side helps to give the illusion of a narrower face. The waves also help to add depth and some height.
14.  Volume + Brush back
This is similar to the classic slick back, but with some added boost. A contemporary hairstyle that gives volume and height to the hair.
Try this hairstyle with thicker sides and perhaps some stubble or a beard.
15.  Comb Over + Taper faded + Hard Part
Most guys have either had a low fade hair cut or have thought about having one. It's a one of those styles that has managed to stick around over the years, and will probably continue to do so.
Do you want to know why? Because it flatters most face shapes.
A low fade (also called a drop fade) blends the hair from short to long, connecting to the top from the sides. Now pair this with a comb over and a hard parting and you have a crisp style ready for any occasion.
Longer comb overs are ideal for men with round faces because they add volume. In the style above you'll notice that the hard part and the line up also gives the face some nice angles.
16.  Low Fade + Curly Afro + Line up
This is definitely a solid men's hairstyle for round faces. Not only does this style give you angles with the crisp (and it has to be crisp) line up. There's also volume from the length left on top.
It's all finished off with a clean low fade. For this hairstyle to work, there should be at least 2 inches of hair left on top. To get extra defined curls, use a pomade.
17 Long hair + Man Bun
We've had a look at shorter haircuts, but how about long hairstyles for men with round faces? Well, the man bun is a good choice if your hair is long enough to tie up.
Now pair this with a full beard, or some stubble and you'll have a look that creates the illusion of a well defined jawline – this is a major plus for men with round faces.
Hairstyle to avoid for round faces
You have probably noticed that many of the recommended partings are asymmetrical – and for good reason. Just picking up a comb and parting to the side will instantly "narrow" the face.
On the other hand, center partings will help make the forehead region look even wider, so this type of hairstyle is best avoided.
If you happen to have mid length and curlier hair, avoid hair draping around the mid face section. The volume of curls, plus the length will only "fatten" the face and increase its width. Instead, try a man bun, or even a undercut while leaving it longer on top.
Whatever you decide, these mens hairstyles for round faces should give you some good pointers.