Guide on how to fold a pocket square – 11 best ways
In this step by step guide on how to fold a pocket square, we will show you 11 classic variations
Yep, that's right, you are now officially entering into dapper mens territory.  
So why wear Pocket squares? For starters, as an accessory, they're a great way to liven up a suit and tie. Also, on occasions when everyone's suited and booted up, you will stand out as having a bit more panache than the rest. 
As a side note, pocket squares should indeed be square, particularly if you want to get the most out of this pocket squares folding guide.
If you don't have a completely square handkerchief for folding it's find to use a rectangular cloth, you will just need to do more folding to ensure the cloth fits.
So, if you are looking for some classic ways to fold a pocket, read on.
---
Capthatt  makes high-quality accessories for men. All of their products are handmade and of excellent quality. Use promo code CAPT11 to get a special discount.
---
#1 The Presidential pocket fold | square pocket fold
Want classic sophistication? Then go for the square pocket fold also known as the presidential fold.
This is the one we recommend for anyone starting with pocket square folds as it is simple, crisp and elegant. Once folded, it sits parallel to the breast pocket as a single clean band of fabric.
This fold is great for occasions when maximum formality and understated elegance is required.
Presidential fold | Square pocket fold: step by step instructions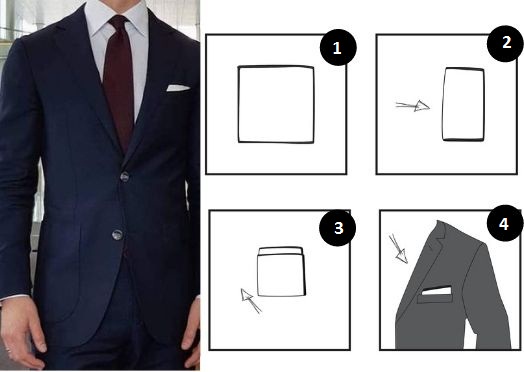 The pocket square 

should be

 fully unfolded and flat.
Fold the square to the width of your pocket. Usually a fold straight down the center 

should be

 enough.
Fold the pocket square from the bottom up to create a finished. This 

should be

 the same width as your pocket, and around half an inch longer.
Ensure that the pocket square is tucked snugly into the bottom of your pocket. This may be adjusted so it creates a crisp 

looking rectangle of cloth running across the top of the pocket.
The square fold or presidential fold is a classic. It is clean, elegant and unfussy.
When finished, it should be a band of fabric running parallel to the top of the breast pocket. This pocket square fold is ideal for formal occasions and times when a touch of elegance is required.
2#  The One point pocket 

square square 
The one point pocket square also known as the 'one tip up pocket square' is a simple and well known ways to wear a pocket square.
This one point fold is truly a classic, great when you need something simple and stylish.
If you like wearing bolder patterns on your pocket square, this is a good choice. It also goes with any suit or fabric.
However, bear in mind, the stiffer the fabric the straighter and firmer the peaks.
One point pocket 

square square: step by step i

nstructions
Lay the pocket square on a flat surface
Lift up one end and create a triangle
Take one of sides and fold inwards
Fold the other side inwards also. This creates the one tip up fold that 

will be seen

 from the pocket
3# The Pyramid pocket square – aka two point pocket square
The pyramid pocket square, also known as the two point pocket square, can be worn with anything from suits to sports jackets. 
It's one of the ways to fold pocket squares that is a 'must know' as it's incredibly versatile. Perfect for semi formal and 
informal events, it's one of those pocket squares that works well in the business world. 
Although this pocket fold looks complicated, it really is easier than it looks.
Pyramid pocket square – aka two point pocket square: step by step instructions
Have your pocket square of choice fully unfolded on a flat surface. With larger squares, fold it in half width-wise first, a

nd then again length-wise. For  smaller squares go to step 2.
Turn the square so that it faces you like a diamond. After this fold it diagonally down the middle, so the bottom corner 

is brought

 across to meet the top corner. Ensure that the corners do not meet completely. The fold 

should be

 angled slightly off-center.
From the triangle base, take the sides of the square and fold these in. This creates a pocket square that will fit neatly into your breast pocket. It's a good idea to fold this so everything looks sharp and proportional.
After this, flip the square to expose the side without any folds. This will be the front side of the pocket square when worn.
The 

final

 step of the pyramid pocket square fold is to place it into the breast pocket of your suit, or sports jacket. The bottom 

should be

 secured so hat 

should be

 seen are two triangular points.
Look in the mirror to check that it fits right. You don't want it to appear too narrow or wide, too short or tall (although this is really your discretion). For less width, adjust the fold horizontally. To fix the height, adjust the fold from bottom to top.
There you have it – an attractive and sharp-looking pocket square that's ready to impress.
4# How to fold a Rose pocket square fold
Knowing how to fold a rose pocket square is something that will truly transform your suit of sports jacket. So if you are 
looking to make a strong and sophisticated impression, the rose pocket square is the one to pick (pun intended). 
It personifies elegance and naturally personifies romance and dressing with a flourish. Great for evenings out with that
special someone, or when you need your whole outfit to say Style with a capital S.
How to fold a Rose pocket square fold: step by step instructions
Place your pocket square face-down on a flat surface.
Make a o shape with your hands and place the pocket square on top.
Using two fingers, push the fabric down through the circle.
In a circular motion twist the fabric while reducing the size of your fist.
After you have made enough twisted 

pleats

 in the pocket square, carefully remove your bottom hand.
Collect the rest of the fabric together at the bottom and make twisted folds in the fabric.
Continue to adjust pocket square until you ruffled rose 

is created, then place in your breast pocket
5# The Three point peak pocket square
This is a crisp and elegant pocket square that gives your look just the right amount of debonair drama.
The three point peak pocket square fold is bold, yet sophisticated. And once finished, you will look royal, not least because this pocket square fold strongly resembles a crown.
Wear this style of pocket square with neutral colors or with prints that are not too busy.
The Three point peak pocket square: step by step instructions
Place the pocket square on a level surface.
Fold this diagonally to create a triangle.
The next fold you do should form a smaller triangle with overlapping corners.

Fold this again all the while making sure the third corner is overlapping the first two.

Fold the bottom corner back up so it fits the  width of your pocket.
All that's needed now is to fold up the bottom corner to make a base.
Place in your jacket and if needed you can adjust.
6# The stairs pocket fold
The stairs pocket fold is another one that looks more complicated than it actually is. This pocket square fold is quite 
simple to achieve and is well worth doing. With its clean lines and sharp edges, the stair pocket fold will take any suit to another level.
For added panache, find a pocket square which has a different pattern. This will give a nice differentiation on the stair effect.
The stairs pocket fold: step by step instructions
Start off by laying your pocket square out into a diamond shape in front of you. With your thumb and forefinger, gather a point on either side about a third of the way towards the top.
Fold these up towards the top point.
Repeat this by taking the central points on the left and right and making a second fold that now 

lays on

 top of the first fold but about 1cm lower.
Repeat this process again, making three distinct folds.
After this, pinch the pocket square in the middle  and lift it up, and fold it in half vertically.
Lay this down in front of you so you can see what 

has been done

 clearly.
Lifting up the left side, fold the remaining fabric behind the square.
Then on the right side fold the fabric underneath so that it is now the width of the breast pocket.
Pick up the square and fold the fabric at the base underneath the fold and hold it 

firmly in

 place.
The final step is to place it in the pocket. 

This

 

should be

 adjusted to give an even and finish with a nice sharp points.
7# The Scallop fold pocket square
Whether the pocket square is a solid color or pattered, the stylish scallop fold will work amazingly well.
There is nothing fussy about this pocket fold, it is organic and flows with your style.
This is ideal for occasions when there's a more upbeat vibe, like a party or any occasions when strict style rules are not being adhered to.
The scallop fold pocket square: step by step instructions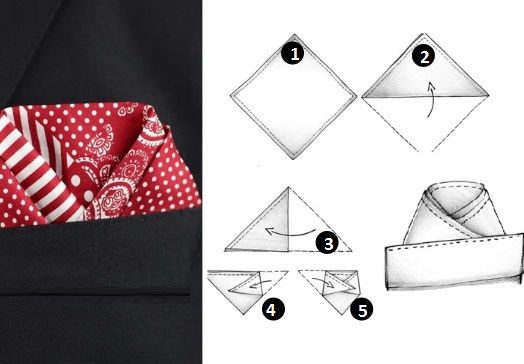 Place the pocket square on a  flat surface and smooth it out.
Fold the square in half diagonally so you make a triangle.
Repeat this again, folding to make a smaller triangle.
Fold the pocket squares right corner in.
Do the same fold inwards for the left corner.
Tuck the square carefully within your pocket and your done.
8# The Overcoat pocket square fold 
If you are ready to have some fun with your pocket square, then the "Overcoat" fold is the one to choose. This snazzy fold
utilizes 2 pocket squares on a single fold. You can use one solid and one patterned pocket or different solid colors, the choice is entirely yours.
See the instructions on how to create the overcoat fold below.
The overcoat pocket square fold – step by step instructions
Place both pocket squares flat on a level surface.
The pocket square you want for the center 

should be

 folded into a triangle. 

The pocket square that will make the "overcoat" 

should be folded into a rectangle.
Fold the two wings from the triangle down creating a square. Go back to 

the the

 rectangle pocket square and fold again to make a longer shaped rectangle.
Now place the square on top of the rectangle.
The rectangle 

should be

 folded over the "shoulders" of the square.
Fold the overcoat back to secure the center square.
Place the completed fold into your pocket and step out in style!
9# How to fold the double winged puff pocket square
The double winded puff fold is pretty unusual, it's certainly not one you're going to see many people wearing. Great for creative types, or people who simply want something a little different.
This fold combines the overcoat fold along with the winged puff. To achieve this yourself, you will need to use two pocket squares of similar sizes.
Double Winged Puff Fold Step-by-Step:
Place the two pockets squares down flat.

Now fold both of these into halves to create two triangles.

Take the pocket square that you would like in the middle and fold down both tips of the triangle so it creates a rectangle.
Place the rectangle on the triangle. The rectangle will need 

to be

 about 1 inch higher than the triangle below.
Next you will need to fold down the triangle wings, these 

will be used

 to wrap around the rectangle.
Fold the right and left corner of the square containing both pocket squares back. This is so the size 

is adjusted

 to fit into your breast pocket.
Finally, tuck the completed fold into your breast pocket.
10# The Winged Puff Fold
Like the scallop fold? Then you're going to love the Winged Puff fold.
Less structured than the double winged fold, this is a simple way to get a similar more organic effect.
This way of folding pocket squares is best with more delicate fabrics such as silk.Solid colors and bold patterns are also suited to this type of pocket folding technique.
The Winged Puff Fold: Step by step instructions
Place the pocket square down on a flat surface.
Fold one tip 

inward

 to create a triangle.
Fold in the left and right tips to create a rectangle.
Now fold the corners on 

both of the

 sides to the back. The width 

should be

 about as wide as your breast pocket.
After this, fold back the bottom corner. This will create the base that sits in your breast pocket.
Finally, tuck the pocket square into your breast pocket. Well done! Your look is complete.
11# The Croissant pocket square fold
If you like getting intricate with your tie knots, then you will appreciate this novel way to fold your pocket square.
The "Croissant" is a dynamic looking fold that brings out the style in any solid colored pocket squares.
This pocket fold that's hard to ignore, so is ideal when you really want to stand out with your clothing.
Croissant Pocket Square Fold Step-by-Step: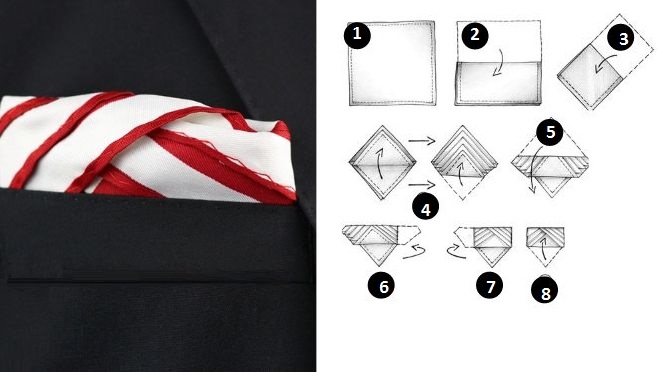 Begin with your pocket square laid down on a flat surface.
This 

should be

 folded in half lengthwise 

so as to

 create a rectangle.
The rectangle should now be folded in half again to form a square.
Next, the four corners 

should be

 fold up so they stop slightly below each other.
Flip the pocket square over and fold this once again.
The left side should now be folded under.
Now fold the right side under.
Afterwards, fold the loose triangle up and tuck this under the other folds.
Carefully place the folded pocket square into your jacket pocket.
What are the pocket square rules?
Now we've delved into the ways to fold a  pocket square, it's worth pointing some pocket square folding rules- if you will. 
These are not hard and fast, but will help you to get the best out of  your pocket square fold.
Pocket squares and patterns
Don't go wild with colors and patterns, make sure some aspects of clothing is in neutral colors. This will accentuate your pocket square or tie and keep your look sharp.
Should pocket square match tie
Some of you may be wondering your pocket square should match your tie or bow tie. Well, just like going wild with patterns is 
a big no no, the same could be said of matching the color of your tie with your pocket square. While it might make sense in 
your head, when worn the look comes off as very beige, in other words – dull.
Since pocket squares are about adding some flair to your wear, mediocrity should never be your goal.
How to deal with Silk pocket squares?
With silk pocket squares, try to ensure they are more than  40cm x 40cm (16 inches). With such fine material, a smaller handkerchief may slip into your pocket.
Pocket square folds for weddings and other important occasions
Your fold should always match the occasion. For formal occasions, such as a wedding, stay with two point folds or classic
flat folds. There's a bit more freedom with casual occasions. Try using a fold with some spice, like the puff fold or one of the more elaborate folds as set out above.
White pocket square rules
When it comes to rules for white pocket squares, there really aren't any – as such. White squares have the ability to work with all jacket and tie combination color.
This means, if your unsure of what colors to go for in pocket squares, white is your best option.
These tips should give you some idea on how to wear a pocket square. Now get yourself a good quality pocket square and get your style flow going.